Trained in conflict resolution, Beyond peace Founder has worked in direct support of Track I talks (as a member of the International Contact Group for the peace talks on Mindanao) and in numerous other dialogue processes and support to transitions and to civil society and women's groups, such as the National Dialogue in Yemen. Today at Beyond peace she continues this support work to conflict affected countries and societies in transition.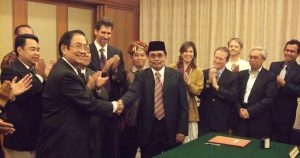 We support efforts to increase women's participation in peace building, through advocacy, direct support to dialogue processes and by building women's capacities. We recently participated on behalf of the Organisation for Security and Cooperation in Europe (OSCE) and in collaboration with the Toledo international Centre for Peace (CiTPAX) and the Spanish MOFA, in the training: "Mediation and conflict resolution from a gender perspective" for women from Albania, Bosnia, Egypt, France, Israel, Italy, Jordan, Lebanon, Libya, Spain and Tunisia and involved in mediation efforts in their countries.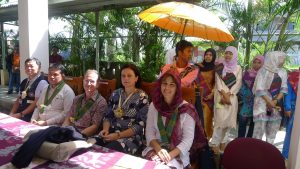 At the invitation of People's College in Patani, Thailand, we conducted a 4-day visit in the Deep South in December in order to meet with civil society, academics and security sector involved in the peace efforts for the region. The highlight of the visit was the Conference held at Prince of Songkla University on the theme of Monitoring, which focused on the comparative case study of Mindanao, Philippines. We would like to express our gratitude to People's College and all the personalities met for their excellent hospitality and for the quality of the conversations we had.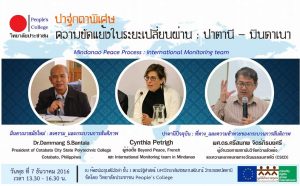 At the invitation of the UNSSC, Cynthia Petrigh from Beyond peace co-facilitated a training workshop on conflict analysis for the UN Support Mission in Libya (UNSMIL) in April 2016 and another training workshop on conflict analysis for the UN Multidimensional Integrated Stabilization Mission in Mali (MINUSMA) in May. Participants were introduced to the main conflict analysis tools, and used them to reflect on some of the root causes of the conflicts they are confronted with, the different peace and security actors as well as the opportunities for peace in both situations.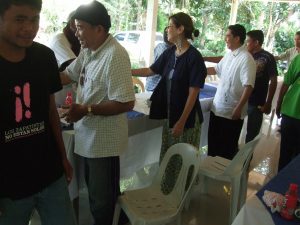 Beyond peace was contacted by Burkina Faso's "Balai Citoyen" for support in organizing the nonviolent transition from Blaise Compaoré's regime to a democratic one. A specific request was expressed for training on international norms and standards, for CSOs and the security sector. While studying partnerships and funding possibilities we are accompanying this group in its democratic transition.